3 Jaw Adjustable Oil Filter Wrench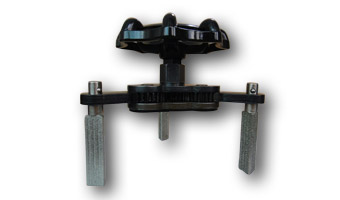 3 Jaw Adjustable Oil Filter Wrench
Model No : 3JAW-BWM
Fit oil filter size 55~95mm/75-138mm
Special design of triangle grip
The grips with diamond coating
Durable Heat-Treated steel
Product Features:
New design ensures oil filter is gripped on-center to avoid slippage.
Special design of triangle grip is easy removed and replaced, it coated of artificial diamond in high temperature, wear and non-slip performance.
Fit oil filter size 55~95mm.
Heat-Treated steel with durable black oxide finished.
Compact design allows gripping in tight areas of confinement.
Made in Taiwan
Fit for various size,with magnetic and anti-slip holder.
Triangle grip,non-slip.
Specification :
3 Jaw Adjustable Oil Filter Wrench
order code


Body

Triple-clamps
Wrench
Torque

Fit oil filter Dia.

3JAW-S36W-BWM
●
36mmX3+56mmX3
●
150 N-M
55-95mm
3JAW-L56-BWM
●
56mmX3
250N-M
75-138mm
3JAW-L66-BWM
●
66mmX3
250N-M
75-138mm
Action: